A&R  - Dj  - Producer - Remixer - festival programmation
Style: Techno Tribal / Future Mediterranean / BalkanBeats / Tropical Bass / Electro Jazz / Trip hop
Based in: office Paris (FR) and recording studio Figueras (ES)
References:  Auf der anderen Seite / De l'autre côté (Fatih Akin) / Children of Men (Alfonso Cuarón) / Underbelly (TV series) / Arte TV (360 ° Geo) / Radio RFI (FR)  / BBC Asian Network (UK) / Radio J.Wave Tokyo (JP)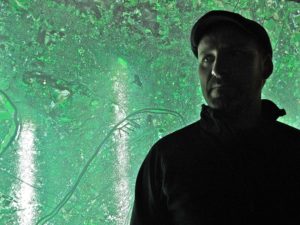 He drives crazy the customs officers. One day, he's exploring Indian rhythms with tablas players from the fringes of Rajasthan. Next day, he's hitting the road around Bucharest with gypsy musicians. He can vanish in Essaouira during a Gnawa lila's night and reappear in Sevilla as part of a fiesta gitana.
Dj/producer on his own label No Fridge, where he has produced over 25 albums: with his band Click Here or the extravert Rona Hartner, for tsigane cultures traditions, as well as the Gnawa Njoum Experience from Essaouira and Hamadcha of Fez, for the North African mixes, defending the rights of the Indigenous peoples with Colelo Identidad Mapuche, pending his polar electro jazz beats with his collective UHT°, or digs into old tempos with the complicity of Masha Natanson from Poland or Agota Zdanavičiūtė from Lithuania.
His worldtronica has paved the way for a truly international league of cultural diversification.
Equipped with his mobile studio, he keeps meeting incredible people over the globe, always digging in tempos for new collaborations or for RFI Instrumental – France Média Monde (a professional music library for the audiovisual sector), where he produced themed albums: Poland, Morocco, Columbia, Chile, Japan, Turkey, Tajikistan, Jerusalem, Lithuania, Spain, Romania..
He has also remixed and collaborated with artists like Manu Chao, Watcha Clan, Nawal, René Lacaille, Warsaw Village Band, Nicolette, Mahala Raï Banda, Dhoad Gypsies of Rajasthan, Va Fan fahre, Burhan Öçal, La Caravane Passe, High Tone, Issa Bagayogo, Smadj, Estelle Goldfarb, Dj Dolorès, Rachid Taha, and others.
"Dj Click uses the original source with delicacy and respect, sometimes discretely but always intelligently, to create an occidental electronic pulse. Click discovers the perfect balance between musical discovery and interpretations, between past and present. He is a world music rock star." Time Out Tel Aviv
"The razor-sharp programming of one of France's most adventurous Djs." RFI
"If we could reach the madness with the music, it'll be with the one of Dj Click" Hadra Trans Festival
"A multicultural weaving of a rare density " The Art Chemists
"TTTT We passionately love Delhi to Sevilla" Télérama
"Irresistible" Le Monde
"Dj Click is building the society of tomorrow" France Ô
"He surprises in his way of humanizing electro, behind the Click (s), there are flesh and beautiful stories" Lylo
"He is insatiable and tireless, Dj Click jumps from one universe to another with ease and elegance" RKK (Radio Nova)